Kershaw County Drug Card

The Kershaw County Chamber of Commerce is proud to offer all residents of Kershaw County and beyond access to a FREE DISCOUNT HEALTH SAVINGS CARD. Simply download and print a free card below to receive savings of up to 75% prescriptions at pharmacies around the country. All prescriptions processed through the program are completely confidential. This program has "LOWEST PRICE" logic to guarantee that you pay the lowest price on your prescriptions (you pay the lower of a discount off the Average Wholesale Price-AWP, a discount calculated off MAC Pricing, or the Pharmacy Promotional/Retail price). Please enter your name and e-mail address below and we will generate a printable membership card for you. You may create as many cards as you need. This card is pre-activated and can be used immediately.
Kershaw County Drug Card
Discount Prescription Drug Card
This program is being provided to you and your family to help lower your prescription drug costs. Simply create and print your FREE Prescription Drug Card below and receive savings of up to 75% (discounts average roughly 30%) at more than 56,000 national and regional pharmacies. This card can be used as your primary plan and/or it can be used on prescriptions not covered by your insurance plan. This program also includes other value added programs which will be listed on the card. Please enter your name and e-mail address in the box below and we will generate a printable membership card for you (no application/enrollment or eligibility required). This program has "LOWEST PRICE" logic to guarantee that you get the best deal on your prescriptions. (You pay the lower of a discount off Average Wholesale Price–AWP, discount off MAC Pricing or Pharmacy Promotional/Retail price). This card is pre-activated and can be used immediately!
| | |
| --- | --- |
| | |
Need to order hard copies of cards for your friends, family, members or employees?
Simply
and follow the instructions to order your own personal cards online.
You can even customize the cards by adding your own logo image to the cards!
Includes the Following Programs:

Participating Pharmacies Include: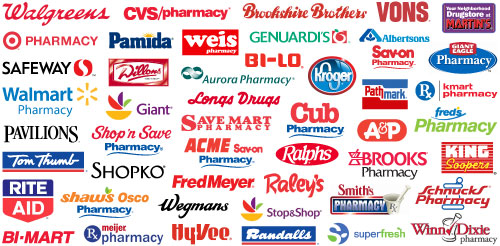 FAQS
Q. How do I use this card?
A. Take the card to the pharmacy with your prescription to be filled and when processed with your prescription, you will receive discounts on your prescriptions up to 50% on brand name drugs and up to 75% on generic drugs. Average discounts will average 30%.

Q. Will the free drug card help with my co-payments?
A. No, this card can only be used alone, not in conjunction with any other plan. However, it can be used if your plan does not cover the prescription you require.

Q. Can I use this card in conjunction with my insurance?
A. Yes and no. This card will not lower your insurance co-pay; however it can be used to cover non-formulary medications (medications not covered by your health plan).

Q. I have a Medicare Part D Plan can I use the card?
A. The card can be used to purchase medications at a discount for medications not covered on your Part D Plan.

Q. I need to find out if my medication is one of the drugs that you cover.
A. All medications are eligible for a discount through this program. The card has "Lowest Price Logic" – simply means that all members will receive the lowest price available on the medication purchased.

A. Please check the quantity that you entered when pricing your medication. You must enter the number of pills in the prescription to receive the correct pricing. If this does not fix the price difference, please have the pharmacy contact 1-877-321-6755.

Q. What pharmacy accepts this card?
A. Most major chains accept the card and thousands of independents as well. There are toll free numbers listed on card for member and pharmacy assistance.

Q. My pharmacy told me that I need to call and activate this card.
A. These cards are pre-activated and ready to use immediately. If the pharmacy has trouble with the card, please have them call 1-877-321-6755 and they can help.

Q. I tried to use my card at my pharmacy, and they told me that the Group number is not good.
A. Have the pharmacy call 1-877-321-6755 while you are there, and they can help them process your card.

Q. My pharmacy said they have never heard of this card.
A. If no one has previously presented the card at your pharmacy, they may not be familiar with it. They just need to enter the information into their system from your card and it will trigger the discounts.

Q. Why would the pharmacies participate in this program?
A. Health Insurance is a concern of many prescription medications is just one of the many expenses related to insurance. By helping to save money on prescriptions, your pharmacy earns a loyal customer.