Kershaw County boasts five Christmas Parades: The Elgin Catfish Stomp Festival and Parade, The Kershaw County Christmas Parade, The Lights of Lugoff (Kershaw County's only night-time parade), The Bethune Christmas Parade, and The Boykin Country Christmas Parade.
Cancelled in 2020
Bubba Hinson
(803) 669-4541
Town of Bethune
(843) 334-6238
Cancelled in 2020
The world's most unique Christmas Parade, usually held the third Sunday in December, draws thousands of spectators to the tiny hamlet of Boykin to enjoy a country Christmas and see what means of transportation Santa will find!
You just never know what to expect at the Boykin Christmas Parade!  The Parade is open to EVERYONE.  For more information, please visit www.theboykinchristmasparade.com.  There is no entry fee, but donations to support Swift Creek Church are much appreciated.
Elgin Catfish Stomp Parade
Saturday, December 5, 2020, 10:00 a.m.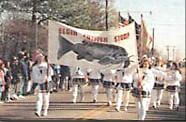 Kick off the holiday season as the town of Elgin jumps with excitement during its annual pre-Christmas festival, the Catfish Stomp.  The event will kick off with a parade at 10 a.m. on Saturday morning.  Throughout the day visit arts and crafts vendors and enjoy mouth watering catfish stew and fried catfish with all the fixins to top off the fun. Plus, back this year is the new and improved Miss Catfish Stomp Pageant for females ages 0-adult.  The Catfish Stomp is always held the first Saturday in December and is fun for the whole family.
For more information, please visit the Elgin Police Department Toys Roundup and Caring Hands Foundation Facebook Page. Forms for Arts & Crafts Vendors, Food Vendors and Parade Entries can be found at the Town of Elgin Website at www.townofelginsc.com under the FORMS Tab.
Lights of Lugoff Christmas Parade
Saturday, December 12, 2020, 6:30 p.m.
Sherri Williams
(803) 420-0146
info@lightsoflugoff.com
www.lightsoflugoff.com
Light up your holiday season and join in the fun at Kershaw County's only night-time Christmas Parade.
Planning is underway for the "Lights of Lugoff Christmas Parade," sponsored by the Lugoff Optimist Club, and excitement is in the air.  The lights of a night time parade are magical for young and old. What better way to showcase your club, school, business, church, etc.  Entry forms are available online at www.lightsoflugoff.com.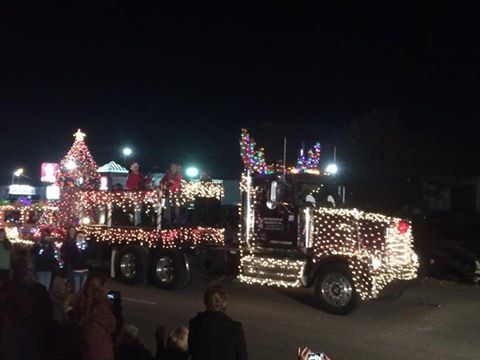 Kershaw County Christmas Parade
Note: Instead of the traditional Christmas parade, in 2020 this will be a reverse parade. See additional details below.
Saturday, December 12, 2020, 10:00 a.m.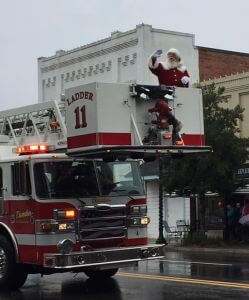 The Kershaw County Chamber of Commerce is holding a "reverse" Christmas Parade from 10 a.m. to 11:30 a.m. The event will be held on the roads around the county's Central Carolina Technical College campus in Camden. The reverse parade will include fire trucks, law enforcement vehicles and more, with the highlight being Santa Claus at the end of the parade route. A "reverse parade" is where vehicles that normally move in a parade are parked/stationary on the side of the road, and spectators drive by. Spectators stay in their cars for the entire parade route but still get to enjoy some of their favorite parade entries.
In addition to those who will be stationed along the parade route, spectators can be involved as they drive by. Kids can make signs to share with Santa as they drive by, or thank you signs for the first responders and law enforcement. Everyone can dress up in their favorite holiday outfit, ugly sweater, or festive hat to celebrate.
Cars should enter the campus from Black River Road. To help drivers find the route, directional signs will be placed at the corner of Highway 521 and Black River Road as well as on Black River Road and throughout the parade route. City police and sheriff officers will be assisting with traffic as well.
For additional information, contact Loree Stokes at (803) 432-2525, lstokes@kershawcountychamber.org
The second Saturday of December each year at 10 a.m., more than 3,000 spectators turn out for the Kershaw County Christmas Parade which boasts horses, fire trucks, floats, beauty queens, classic cars, dancing, music, Santa, and much, much more!
The parade begins at Laurens Street and proceeds South on Broad Street ending at the City Arena.  Bring your friends and family to enjoy this wonderful community celebration.