Kershaw County boasts five Christmas Parades: The Elgin Catfish Stomp Festival and Parade, The Kershaw County Christmas Parade, The Lights of Lugoff (Kershaw County's only night-time parade), The Bethune Christmas Parade, and The Boykin Country Christmas Parade.
Kershaw County Christmas Parade
Saturday, December 10, 2022, 10:00 a.m.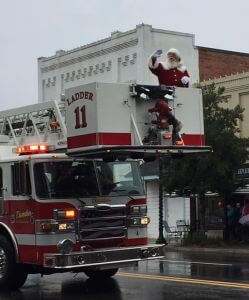 The second Saturday of December each year at 10 a.m., more than 3,000 spectators turn out for the Kershaw County Christmas Parade which boasts fire trucks, floats, pageant winners, classic cars, dancing, music, Santa, and much, much more!
The parade will begin at the corner of Broad Street and Laurens in downtown Camden. It will proceed along Broad Street and end at the City Arena. Bring your friends and family to enjoy this wonderful community celebration!
Click HERE to view the parade line up alphabetically by organization.
For additional information, contact Loree Stokes at (803) 432-2525, lstokes@kershawcountychamber.org
There will not be a Christmas parade in Bethune this year, but check back in 2023. Plans are beginning now for something great!
Town of Bethune
(843) 334-6238
Sunday, December 18, 2022
The world's most unique Christmas Parade, usually held the third Sunday in December, draws thousands of spectators to the tiny hamlet of Boykin to enjoy a country Christmas and see what means of transportation Santa will find!
You just never know what to expect at the Boykin Christmas Parade!  The Parade is open to EVERYONE.  For more information, please visit www.theboykinchristmasparade.com.  There is no entry fee, but donations to support Swift Creek Church are much appreciated.
Elgin Catfish Stomp Parade
Saturday, December 3, 2022, 10:00 a.m.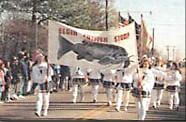 Kick off the holiday season as the town of Elgin jumps with excitement during its annual pre-Christmas festival, the Catfish Stomp.  The event will kick off with a parade at 10 a.m. on Saturday morning.  Throughout the day visit arts and crafts vendors and enjoy mouth watering catfish stew and fried catfish with all the fixins to top off the fun. Plus, back this year is the new and improved Miss Catfish Stomp Pageant for females ages 0-adult.  The Catfish Stomp is always held the first Saturday in December and is fun for the whole family.
For more information, please visit the Elgin Police Department Toys Roundup and Caring Hands Foundation Facebook Page. Forms for Arts & Crafts Vendors, Food Vendors and Parade Entries can be found at the Town of Elgin Website at www.townofelginsc.com under the FORMS Tab.
Lights of Lugoff Christmas Parade
Saturday, December 10, 2022, 6:30 p.m.
Sherri Williams
(803) 420-0146
info@lightsoflugoff.com
www.lightsoflugoff.com
Light up your holiday season and join in the fun at Kershaw County's only night-time Christmas Parade!
The "Lights of Lugoff Christmas Parade," sponsored by the Lugoff Optimist Club, is a night time parade that is magical for young and old. What better way to showcase your club, school, business, church, etc.  Entry forms are available online at www.lightsoflugoff.com.