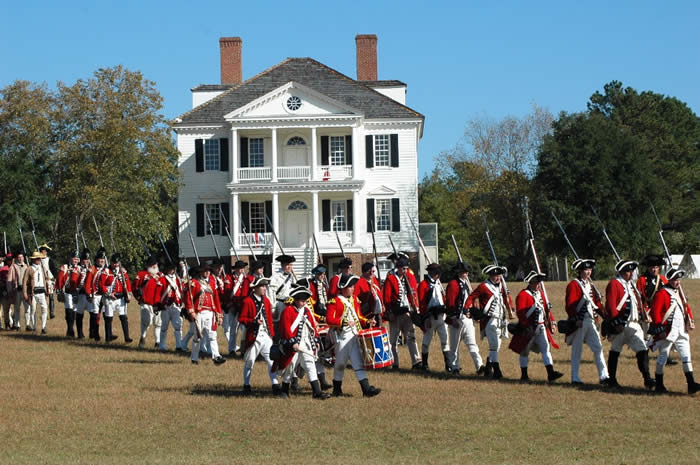 Muskets fire and cannons roar on the first weekend in November as 600 re-enactors and living history interpreters celebrate the 225th Anniversary of the Revolution on the very grounds occupied by the British in 1780-81.
Camp life includes in-camp demonstrations, craftsmen, and sutlers shops and their merchandise, colonial dance demonstrations, military court, campfire cooking competition, colonial games, period fashion show, and activities for kids.
This is a ticketed event and no pets are allowed. For more information, please contact (803) 432-9841.
While in Camden, visit the site of the worst Patriot battle defeat of the American Revolution, where British troops under Lord Cornwallis defeated the Americans commanded by the "Hero of Saratoga", General Horatio Gates. It was here on August 16, 1780, that Revolutionary War hero, Johannes Baron de Kalb, was mortally wounded. A monument marks the spot where he fell, wounded in battle. De Kalb is currently buried beneath a monument on the grounds of Bethesda Presbyterian Church. The 2000-acre battlefield was designated a National Historic Landmark in 1961 and is located on South Carolina Secondary Highway 58 (Flat Rock Road) off Highway 521 North, five miles north of Camden.